Design:
Big thanks to Anthony Wesley (http://www.acquerra.com.au/astro/) for not only his design but also for his endless, undying help and assistance. He put up with many a question from me on trying to wrap my brain around this. For those less inclined with Newtonian design, we'll start with the tube and retaining ring. The 3x collimation bolts in a threaded into the holes in the ring.
Next is the mirror cell. This holds the mirror in place and allows the collimation bolts to adjust the primaries axial position in the tube. The addition of the cooling unit should not interfere with this operation and in my tests and observations, it does not in this design.
Next we need to find space near the mirror and cell to place the internal fans. The 1st video shows this quite well and provides a unique, 'inside the tube' view.
Click to view full screen for higher-res! 
httpnull/www.youtube.com/watch?v=TzWzHlmrQZc
 Materials:
Power Supply:

Manufacturer: Playstation Premodds (httpnull/www.premodds.com/)
290-439 watts, 29 amp switching, 10-15 volt DC power
3 x Thermoelectric coolers (TEC aka Peltiers):
Manufacturer: TE Technology, Inc. 1590 Keane Dr., Traverse City, MI 
Model: HP-127-1.4-1.15-71
Potted: YES!!!
Power: 80 watt(s)
Dimensions: 40mm x 40mm x 3.4mm
httpnull/www.tetech.com/Peltier-Thermoelectric-Cooler-Modules/High-Performance/HP-127-1.4-1.15-71.html
Cold plate, conducts peltier's cold side to tube's interior:
6061-T6 ALUMINUM SHEET / PLATE
.080" x 14" square. My buddy Emerson help triangle the edges from a square to octagon. Then we sanded them down to a mostly round shape. The work turned out great, which is good because its hard to get a round metal of that size!
COLD-SIDE fans:
3 x FAN-EC9225M12CA
EverCool 92mm 12V 3-Pin DC Fan
2200RPM
39.35CFM
<25 dBA
1 x FDC08025S1M
80mm
2700±10% RPM
32.95 CFM
26.5 dBA
Here's the mirror cell without fans: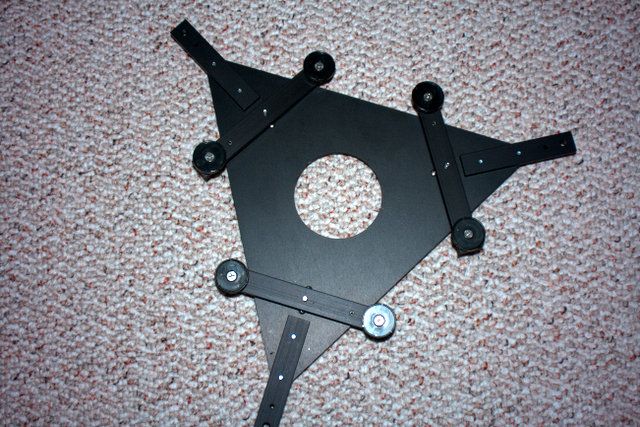 3 on each side of the triangle and one on the center
HOT-SIDE Heat sinks:
3 x Rosewill RCX-Z90-CP 92mm
3000 ±10% RPM
62.5 CFM
26.5 dBA
The challenge with these heat sinks is they are set for a specific computer CPU height. It was too high above the top of the plexiglass so I took some scrap aluminum and poured on the thermal paste.
A view of the heatsink and plexiglass
note the screws and also the height of the heatsink over the plexiglass.  There's a stack of 2x 0.08" scrap aluminum and thermal paste to make the heatsink have contact to the peltier. 
And a photo of the collimation screws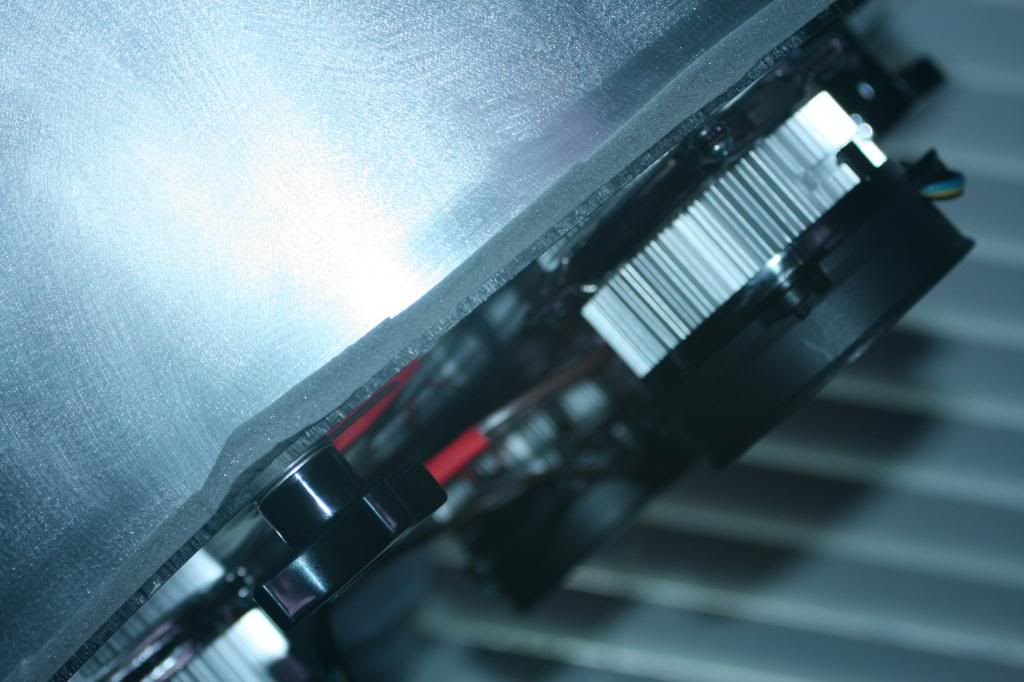 Plexiglass insulator, goes in between the cold plate and the heat sinks (aka hot side)
Name brand Lexan, which is a thermoplastic, from a local art & frame shop
1/8" thick and 17" diameter
store cut into a circle
it's very easy to work with, both drilling and straight lines with a dremel
>3/8" holes for each collimation bolt to pass through (plexiglass cut only)
~1/4" x4 holes for each heat sink (plexiglass and cold aluminum plate both,
these are bolted on with 1/4" bolts, nuts and washers. This is the only
thing holding the plexiglass and cold plate together at this time.
The hardest cuts to make were the ones that pass the Peltiers through from the heat sink (hot side)
to the cold plate. I drilled 1/4" holes just inside the corners and connected them to make a
nice rounded square that neatly fit the Peltiers just inside.
2x small holes for the female banana pegs that connect up the inside fans.
All the holes are NOT insulated and most use metal bolts.
Electrical Wiring:
Power Supply Unit (PSU) to main distribution on edge of plexiglass uses ~8ft 10AWG
with male banana plugs on both ends. This is the scope end:
httpnull/www.radioshack.com/product/index.jsp?productId=2407241
Main distribution to exterior heat sinks and Peltiers is 18AWG (I think?)
There are 3 x +/- pairs, one for each Peltier / Heat sink combo each 'device' lead
is soldered to the extending 18AWG wires.
Each of the 3 pairs is in parallel and connects to a nice receiving hole that tensions
them in place to the female banana plug on the outside.
httpnull/www.radioshack.com/product/index.jsp?productId=2102838
The inside fans are hidden and inaccessible unless the cooling unit is removed.
The photo above shows the small metal bolts that stick out of the female binding posts.
These house bare leads to the fans, but they are held on by nuts and washers and not
easily disconnected. This meant I need a way to quickly remove them. I was able to find
a male and female PC power connected that you may see in the videos below!
and oh, lots and lots of Thermal Paste! null
Videos:
How the mirror connects to the cell
httpnull/www.youtube.com/watch?v=vvZmmO0iQ8M
Mirror attached to cell:
httpnull/www.youtube.com/watch?v=BY5zvVQ_LU8
Cell resting in tube. Basically with the tube at an angle downwards, the weight of the cell and mirror are enough to hold them in place despite the 'upward' force of the springs.
httpnull/www.youtube.com/watch?v=LKy98mdx3Zk
Here you can see how the collimation bolts and knobs play with the cooling 'cap' if you would
httpnull/www.youtube.com/watch?v=s2W-TvMp3Ns
Fully operating! The noise you hear is actually almost all the 2x 90mm fans that keep the PSU cooler. They're badly jury rigged and my not be necessary, but the power supply is near max capacity with all the 7 fans and 3 Peltiers running.