| | |
| --- | --- |
| Posted by maphilli14 on January 31, 2011 at 10:50 PM | |
This tube was 12ft long and I got the folks at Form Tech Concrete Forms, Inc. in Raleigh to cut it in two before I took it home.  Perhaps I can sell the other half to a local person?
I did some trial work on one of the 6ft (~72in) sections.  Only needing ~50-60in, I used the over hang to test drill and cut some.  Here you can see the focuser base drilled into a test spot:
The aluminum sheet is used to make a straight cut for the ends and line up on a proper radial axis.
Read to install the custom adapter ring with collimation screws:
I estimated the depth based on the screw and mirror height, but might shave 1/2 - 1" off the end in the final design.  Note the end was recut from the factory cuts to make a smoother edge from the abuse it took in shipping.  I used that strip as reinforcing on the outside screws that hold the ring in place.

I pre-drilled the holes in the center of the ring and finding them and lining them up on the tube side required some probing with a long, skinny wire, like this yard flag.  I was assured of hitting the center of the ring and not grazing the edge or coming too close to a fragile part instead of the spot I predrilled.

Ohh, there it is...
Screws in place:
Close-up: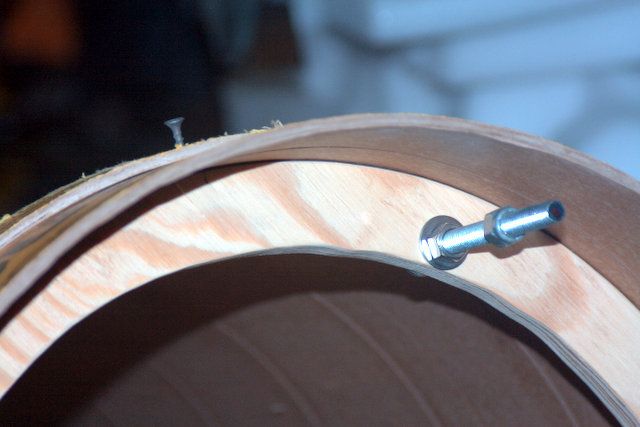 I removed the 'test' end of the tube at 58" (I think?  I'll have to remeasure) and used it as reinforcing inside the tube.
Measuring front end cut with the aluminum sheet to keep the cut square!
Tight and lined up on the edges, that means a straight line all the way around right?
Now that looks like a telescope!!
Making a ~3" hole for the focuser was a bit rough, as was the final cut... 
Another view: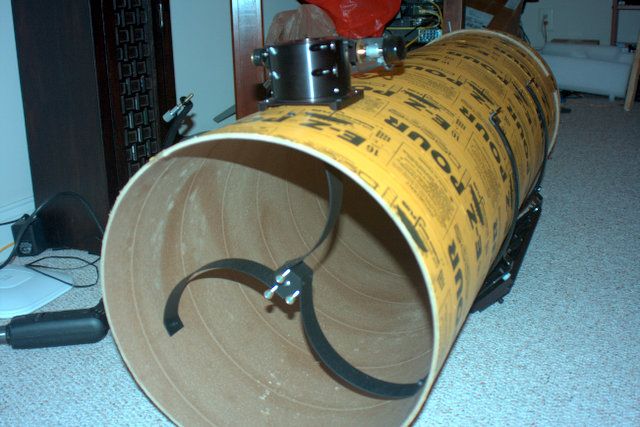 Mirror installed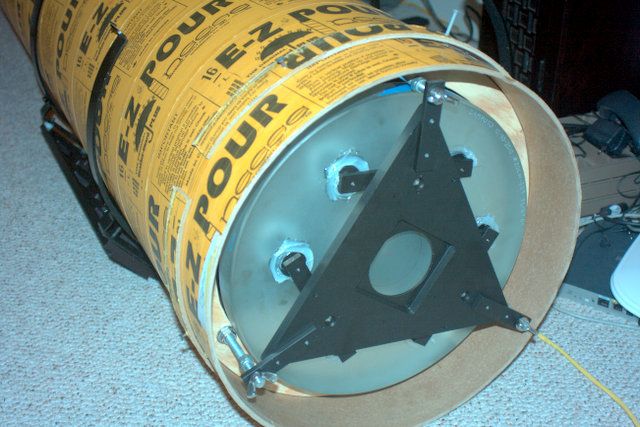 A view all the way down
Well done Mike!  Meet Akule!